Wow, what a year!
As 2022 comes to a close, we are reflecting on the many ways you showed up as a Community United. Here are 11 ways you helped our community thrive this year…
You helped 211 support families in new ways.
This year, our 211 Help Center provided outreach to 1,500 people impacted by the Marshall Fire in partnership with Lutheran Family Services and partnered with Centura Healthcare to connect patients to statewide resources for financial assistance, transportation support, and more. The 211 team is currently supporting incoming migrant and refugee families in their transition to Colorado.
You supported families at our community events.
You ran drives and donated resources to provide backpacks and school supplies to 400 students at our Back to School Bash, essential baby items to 100 families at the Women United Village, and supported our largest ever Children's Holiday Party, providing holiday gifts and cheer for 1,300 children!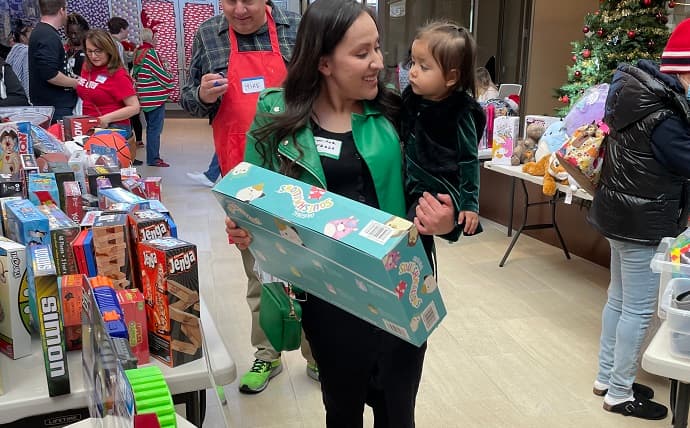 You gave back through Days of Service: More than 2,700 volunteers gave back to our community through volunteer events, including National Volunteer Week, Day of Caring – the largest volunteer event across Boulder and Broomfield counties – and Denver Day of Service, held in partnership with the Denver Broncos.
You helped champion three bills into law: With your support, Mile High United Way successfully championed three bills that increase opportunities for families to thrive. HB22-1315 provides $1 million in annual funding for the 211 Colorado Collaborative, ensuring residents across the state can access 211's resources for years to come. SB22-213 infuses $100 million of federal funding into early childhood programs and training programs for informal caregivers. SB22-008 provides financial assistance to college students who have been in foster care and will benefit Bridging the Gap participants.
You helped 192 small businesses thrive: Because of you, our United for Business staff and volunteers helped small businesses stabilize and grow by providing one-on-one business consulting, access to capital, and much more. Thank you to community partner, Wells Fargo, for its ongoing support of United for Business and our small business community.
You helped connect children to quality early learning: With your support, Mile High United Way provided 159 licensed early childcare slots across the communities we serve, many of whom live in childcare deserts. Our United for Families team also conducted 1,729 early learning sessions through our Home Instruction for Parents of Preschool Youngsters (HIPPY) program, helping parents support their child's learning so they start kindergarten ready to thrive.
You connected low- and middle-income Coloradans obtain their tax refunds: Volunteers and staff members of Tax Help Colorado, a new Mile High United Way program, provided free tax preparation services to thousands of Colorado families, with $14.4 million in refunds returned to clients! 
You ran in the largest Mile High United Way Turkey Trot: The 49th Annual Turkey Trot welcomed over 10,000 trotters, volunteers, and spectators to Washington Park on Thanksgiving! Each registration supports helping children get a strong start, supporting education and academic success, and promoting economic opportunity for all. Thank you for making the Turkey Trot a part of your Thanksgiving tradition!
You supported our transformational community investments: In February, Mile High United Way announced an investment of $8 million in five transformational projects and partnerships, including the purchase of a 24-unit apartment building to provide affordable, stable housing for individuals and families. The remaining four investments emphasize quality early childhood education centers in childcare deserts alongside our community partners.
You supported Colorado's workforce: This year, we launched a new program, Careers United, to help increase access to quality employment and job training for individuals and families across Metro Denver. We are also proud to partner with the Colorado Office of Economic Development and International Trade to administer Opportunity Now, an $85 million grant program, creating transformative change for Colorado's workforce.
You supported education and literacy in schools: Mile High United Way fosters partnerships between districts, schools, and families to increase literacy and grade-level reading. One proven way to increase literacy is to invest in quality out-of-school time (OST) programs. This year, with your support, we engaged 532 students in OST programs like Balón USA, a free soccer program, which engages both students and parents.
As Mile High United Way celebrates our 135th anniversary as the first United Way in the world, we are especially grateful for community members who helped us reach this milestone. We cannot do this work alone and we are grateful for partners like you who are helping to usher in the next 135 years of impact.
We hope you will continue to support the critical work of Mile High United Way, and renew your investment in our community by making a year-end gift!