Updated: June 2, 2023
In recent months, the Denver community has welcomed hundreds of migrants and refugees from Latin American nations. Many families arrive in need of immediate support as they begin their transition to living here in Colorado.
In December, with shelters at capacity, the City of Denver activated its emergency operations center, opening an emergency shelter at a city recreation center and connecting families with resources and temporary or permanent housing. Mile High United Way is providing direct services, as well as partnering with government agencies and other nonprofit organizations to assist families.
"For 135 years, Mile High United Way has been here for Coloradans, responding to meet the emerging needs of our community. We are proud to welcome and assist migrant and refugee families during their transition to Denver and to our Colorado communities. By leveraging our 211 Colorado database, which contains over 7,000 resources, and strengthening partnerships with the State of Colorado and within our nonprofit ecosystem, we are working to ensure that incoming families have access to critical resources, like shelter, food, transportation, immigration services, and more," said Kasey Harlos, Senior Director, 211 and Disaster Response.
Learn more about how Mile High United Way is providing critical support to migrants and refugees:
Connecting Families to Resources Through 211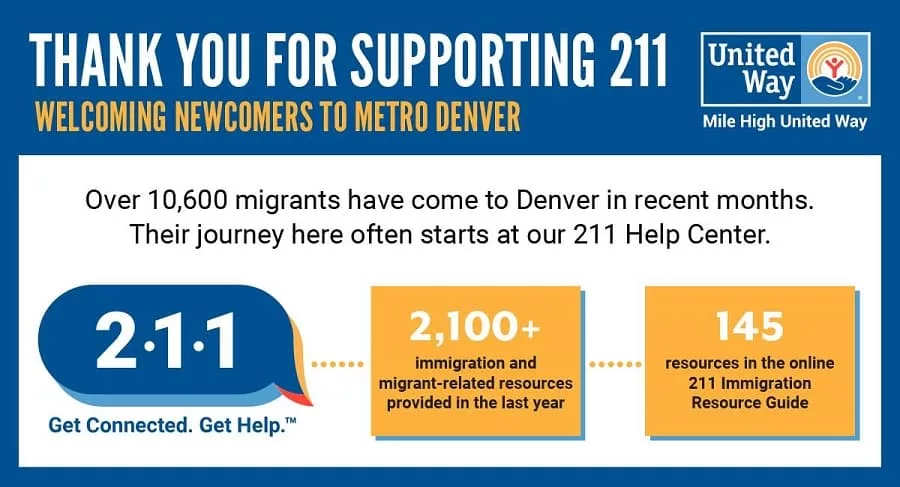 Mile High United Way's support starts at our 211 Colorado Help Center, our statewide resource connecting people to critical resources. The 211 database contains more than 7,000 resources and is updated daily.
Over the last year, we have received more than 500 calls from migrants, caseworkers and immigration agencies from across the state. Through our 211 Help Center, we have provided more than 2,100 immigration- and migrant-related resources, as well as resources for basic needs, including housing and food.
Our trained and multilingual resource navigators match clients to the closest resources in their area, including basic needs like food and shelter. Navigators then follow up with clients two to three weeks after the initial call to offer more resources if appropriate. At Governor Polis' request, we have a dedicated coordinator working with Metro Denver churches to serve migrants and refugees as they come to Denver.
Our 211 Immigration Resource Guide provides a list of 145 resources, from adult education classes and legal advice to food pantries and clothing, to assist incoming families.
If you need assistance or are supporting someone in need of immigration services, visit 211Colorado.org to learn more about resources available.
Supporting Organizations Providing Services to Migrant Families
Mile High United Way has applied for funds through the FEMA Emergency Food & Shelter Program (EFSP) to reimburse organizations that are providing support for newcomers. Learn more here.
How You Can Help
Donate Items – Find more information, including a list of needed items, here.
Donate – When newcomers settle in Metro Denver, many are in need the the full wraparound services that Mile High United Way provides. Your support will help us meet their emerging needs. GIVE NOW