Tax preparation can be a difficult, confusing process for Colorado individuals and families. From a 1040 to a 1099, the forms and complicated jargon can feel overwhelming. Additionally, Colorado residents may be unaware of which credits they're eligible to receive or have multiple forms to include when they file.
In its first year as a Mile High United Way program Tax Help Colorado helped people across the state navigate the tax preparation and filing process. Tax Help Colorado is an IRS Volunteer Income Tax Assistance (VITA) program in which volunteers receive IRS certification and then provide free tax services to middle and low-income families at designated sites. In 2022, average adjusted gross income (AGI) of families and individuals served by Tax Help Colorado was $27,000.
"Mile High United Way took on the Tax Help Colorado program because we know the integral role refundable tax credits play in creating economic opportunity for all," said Tax Help Colorado director Nathan Davis. "We believe that high-quality tax preparation should be free so that our neighbors can keep more money in their own pockets."
This year Tax Help Colorado filed more than 5,000 returns, helping residents obtain more than $14.2 million in tax refunds.  The program also saved participants more than $1 million in tax preparation fees.
"Those dollars will improve economic and health outcomes, help families save and plan for the future, and generate a ripple of economic opportunity, that benefits us all," Davis said.
With a staff of only two people, Tax Help Colorado's huge impact is only possible with the efforts of its passionate and talented volunteers, many of whom are also accounting and business students at local community colleges.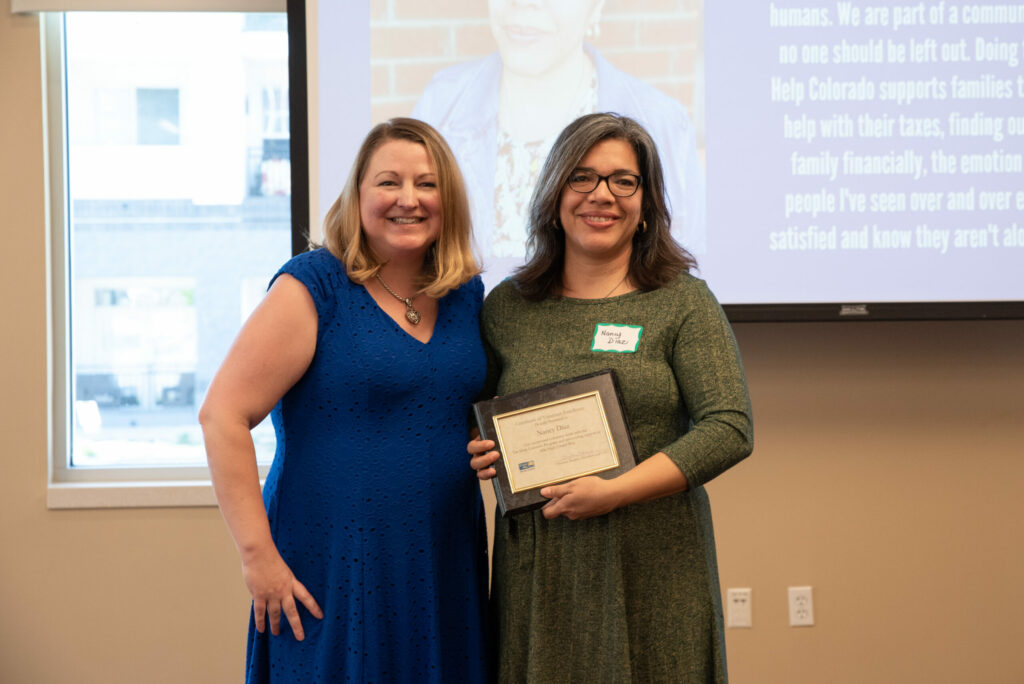 IRS-certified volunteers like Nancy Diaz logged more than 11,000 volunteer hours across more than 30 sites statewide, helping each client navigate the tax process. Nancy was the site coordinator and only IRS-certified volunteer tax preparer in Lamar and the surrounding area this year. She tirelessly lent her skills and expertise to the community, ensuring site compliance, organizing community outreach and appointments, and completing the intake and tax preparation process for each client.
Nancy went above and beyond, helping residents obtain their individual taxpayer identification number, a complex and often confusing process. Additionally, she served as a translator for tax preparers in other regions of the state. In total, Nancy spent more than 226 hours between January and April volunteering with Tax Help Colorado. Mile High United Way recently recognized Nancy for her incredible efforts during National Volunteer Week.
Volunteers like Nancy are essential to Mile High United Way programs like Tax Help Colorado. Whether it's donating one hour of time or hundreds of hours, volunteers support the mission of Mile High United Way in everything they do.
Mile High United Way believes each individual and family in Colorado should have opportunity to move toward economic success. We are proud to provide free tax assistance to residents with the greatest need in our communities.
Whether you're a CPA with years of experience or still need help with your own tax returns, there are multiple ways to volunteer with Tax Help Colorado. Visit our website to learn more: taxhelpco.org