By Kristin Hubbard, director of Tax Help Colorado

For many families, the tax refund is the biggest check they'll receive in a year.
Tax Help Colorado provides free, high-quality tax preparation services to low- and moderate-income individuals and families in partnership with the IRS and its Volunteer Income Tax Assistance (VITA) program each year.
We cannot do this work alone; volunteers are an essential part of Tax Help Colorado's work. And the numbers bear this out.
During the 2023 tax season, 307 volunteers across Colorado completed 10,161 hours of service, filing 6,874 tax returns and returning over $11.7 million dollars in state and federal tax refunds.
Those numbers are a testament to the expertise and dedication of our IRS-certified volunteers who are the heart of our program. But as is so often the case, the numbers tell only part of the story. The real stories – the most interesting stories and the reason we do this work – are shared with our volunteers one hour at a time while populating the ubiquitous IRS Form 1040.
The entire point of a form is that they all look the same, at some level: Wages from W-2s go on Line 1a. The Earned Income Credit—one of our nation's most powerful and effective anti-poverty tools, but that's a topic for another blog post—is found on Line 27.
Occasionally, a taxpayer is content to sit in silence and let the numbers and documents speak for themselves. But more often, when sitting with a stranger and facing a task that few people look forward to, our clients tell us about the lives contained within those numbers. That they so frequently trust us and our volunteers enough to share their stories with us is a sacred trust that we never take lightly.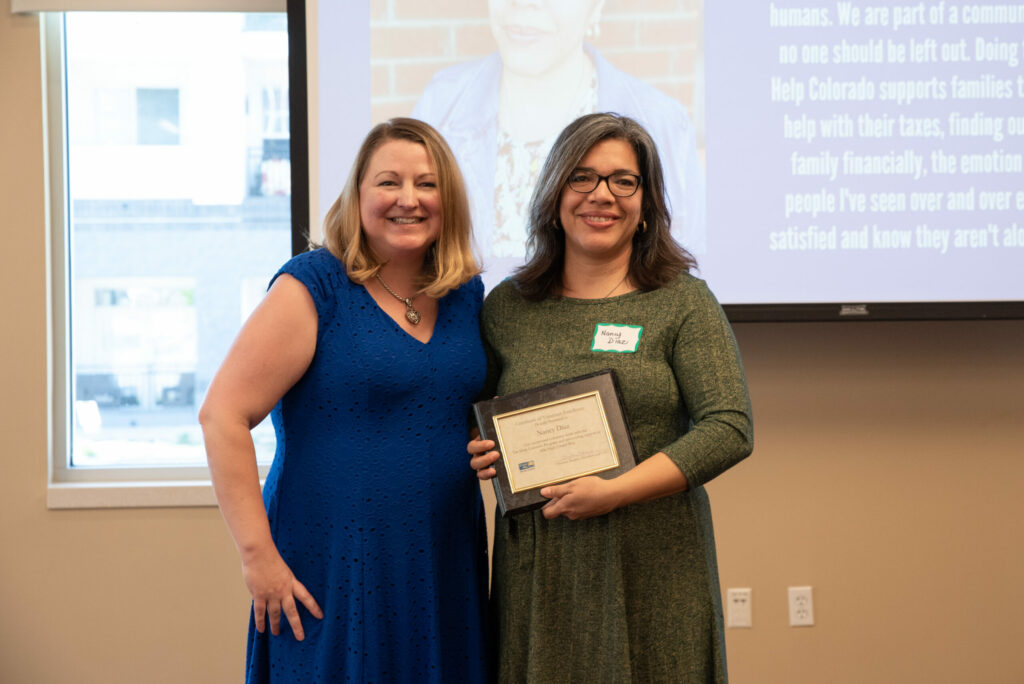 Tax Help Colorado volunteers like Chanda and Nancy (pictured above) learn about clients' major milestones: a recent marriage, the purchase of a new home, or the dream job they secured midway through the year.
We celebrate the births of children and graduations and listen to the adventures of the recently retired. Volunteers learn about new businesses, future goals, and how the tax refund will support their next adventure or that medical expense that they've been putting off.
We also learn about the heartaches and challenges that will resonate long after we complete their taxes. Our volunteers hear about the job loss that required a taxpayer to pick up gig work to survive financially; the decision of a newly single parent to leave an abusive relationship live in the temporary safety a shelter; and the major medical challenge that required a father of three to make an early 401K withdrawal to afford treatment.
We share in discussions about daily financial challenges and how the Child Tax Credit and Earned Income Tax Credit will help to remove a little bit of the burden.
Volunteers provide tax assistance to recent widows who are filing taxes for the first time in decades and aren't sure who to trust or what to do.
We help taxpayers who are not yet eligible for a Social Security card file their taxes and obtain an individual taxpayer identification number (ITIN) so they can pay their taxes and apply for a Colorado driver's license. And while we love to see refunds, volunteers also offer guidance when clients unexpectedly owe taxes or have challenges communicating with the IRS about their specific tax situation.
Tax Help Colorado volunteers understand that every 1040 tells a story and we are honored to become a small part of it during the tax preparation process. Volunteers leave tax sites knowing that the time they spent completing tax returns has a direct and immediate impact on the people they served that day.
Many volunteers return year after year because of the people they meet and the unique service they provide to others. How often does an hour of your volunteer time put $10,000 directly into someone's hands?
Tax Help Colorado volunteers come from a wide variety of backgrounds and experiences; the only requirement is a willingness to learn and to engage deeply with your community—tax and accounting experience are emphatically not required.
Volunteer With Tax Help Colorado
Join us for the 2023 Volunteer Kickoff Event on Nov. 29, 2023 to learn how you can become an IRS-certified volunteer this tax season. Register here!
For questions on becoming a Tax Help Colorado volunteer, contact Kristin.Hubbard@unitedwaydenver.org.
About Kristin Hubbard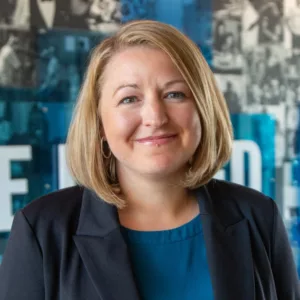 Kristin Hubbard presently serves as the director of Tax Help Colorado, where she leads our staff and volunteers with grace, compassion and a vision for a more equitable future. She has worked in the nonprofit and public sector for over a decade, first working in education before joining Mile High United Way in 2021. We are grateful to have Kristin's expertise on our team!