Mile High United Way's physical office is currently closed, but all of our services including 2-1-1 will be running at full capacity. Please dial to reach our community resource center.
Donor Networks
We believe the most fulfilling way to give, advocate, and volunteer is to do it together. Our Donor Networks are groups of like-minded individuals who create sustainable change in our community and create lasting relationships in the process.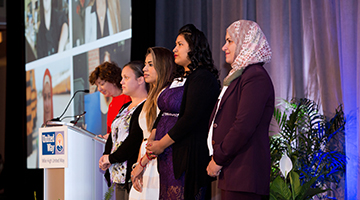 Women United Luncheon
October 1, 2020
For more than 20 years, our Women United Luncheon has brought the community together to celebrate the power of women. This year, the Women United Luncheon will be a VIRTUAL event!
Ready, Set, College
August 8, 2020
Each year, our Tocqueville Society members provide first generation college students pre-college advice, life skills workshops, and ongoing mentoring.