Black History Month is an opportunity to celebrate and highlight the incredible contributions the Black community has made throughout U.S. history. In honor of Black History Month, our Diversity, Equity and Inclusion (DEI) Committee is celebrating the legacy of Black leaders in Denver.
Mile High United Way is in the heart of Denver's historic Five Points Neighborhood, the backbone of the Black experience for generations. The history of Five Points evolved alongside segregationist, racist policies and redlining.  Despite those barriers, Denver's Black population persisted – and thrived – in the face of disproportionate inequities, creating a cultural haven which continues today.
Mile High United Way aims to honor the history of our neighborhood. We strive to create space and opportunity to engage our community in candid conversations and meaningful action to build a more just society for all. Celebrating Denver's Black history – and its future – is one way we strive to champion diversity, equity and inclusion for our community.
We invite you to learn more about local leaders, businesses and events contributing to the rich cultural fabric of our community and consider what actions you can take to continue your own DEI journey.
Read Our Articles about Black History in Denver:
Denver's Historic Five Points Neighborhood Exemplifies What It Means to be a Community United
"The historic Five Points neighborhood is one of Denver's oldest. In the face of segregationist policies and the insidious practice of redlining, Denver's Black population created a haven for their culture here. The resilience and dedication to keeping Black culture alive led to Five Points' reputation as the "Harlem of the West," and created a thriving jazz scene that offered a home away from home to many of the greats, including Louis Armstrong, Billie Holiday, Count Baisie and many more."
Understanding Equity and Our Role as a Learning Organization
"Working toward equitable communities requires nuanced work, an ability to grow and learn, and a dedication to listening, responding, adjusting and listening again. At Mile High United Way, we are evolving to do that in new and innovative ways."
Juneteenth Reflections: The Equity Work Continues
"While Juneteenth celebrates the official end of slavery, today we still have an enormous amount of work to do to ensure the complete participation of Black people in America."
Black Leaders, Businesses & Resources:
Although this list is by no means representative of every Black-owned business or resource across Denver, we hope this sampling sparks interest and curiosity in members of our community to learn more about the incredible individuals who have helped shape Denver – the business owners who didn't wait for permission to pursue their dreams, the activists who helped overturn racist policies, the historical sites and museums that honor the legacy of Black leaders and thousands of others whose stories are still being written.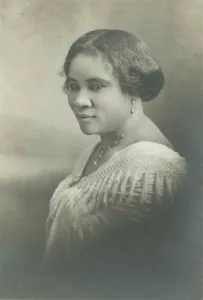 Born Sarah Breedlove on a plantation in Delta, Louisiana, in 1867, Madam C.J. Walker is the United States' first self-made female millionaire. In the early 1900s, she began her line of beauty products, called "Madam Walker's Wonderful Hair Grower," while living in Denver's Whittier neighborhood.   Madam Walker helped open the door for thousands of Black men and women to become business owners and earn a sustainable living. Learn more about her lasting impact on the Black business community.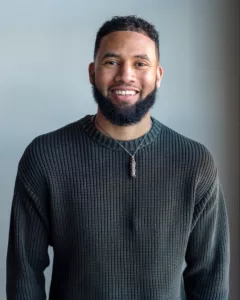 Green Spaces is a multipurpose co-op in Denver's Five Points neighborhood. Founded by Jevon Taylor, the LEED-certified co-working collective provides access to resources that combat displacement, promote sustainability and increase accessibility to small businesses, nonprofits and local artists. Green Spaces creates an ecosystem that serves the small business and creative communities which have been pushed out of prominent areas due to new development and gentrification. Green Spaces also helps overlooked artists discover their power and voice by providing support and resources.
When asked about what legacy looks like for him, Jevon shared, "I just want to make sure we have real representation in areas where we're often forgotten or only given temporary opportunities. I want Green Spaces to be a pillar where people can experience our culture authentically and be a staple of longevity in a time when we need it the most. It's a home to a new regime of local creatives and change makers." Currently, Green Spaces is working to create a marketplace full of 11 local vendors and five local artists, set to open March 2023.
Quincy Shannon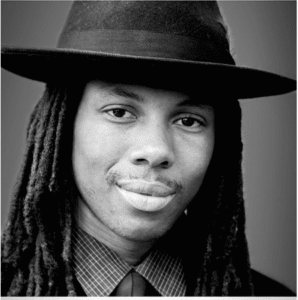 The Rev. Quincy Shannon is a leading voice in Denver's Black community. Growing up in Denver, Quincy's family regularly spent time in the mountains skiing, hiking and climbing. Now, through Ski Noir 5280 and Neighborhood Uplift, Shannon is seeking to connect Black residents to mountain activities which historically have excluded Black populations such as skiing and snowboarding. Quincy also helped organize peaceful protests following the death of George Floyd in 2020. Today Quincy continues to educate residents of Denver's Black history through walking and bike tours highlighting Black individuals and establishments which helped shape Denver, and seeks new pathways to bring Black community members to the mountains.
Blair Caldwell African American Research Library
Located next to Sonny Lawson Park in Denver's Five Points neighborhood, the Blair Caldwell African American Research Library honors the contributions of Black and African American Coloradans, from early pioneers to present-day heroes. The library's name bears tribute to two significant Black Denverites: Omar Blair, the first black president of the Denver school board, and Elvin Caldwell, Denver's first Black City Council member. The library is temporarily closed for renovations, but we encourage community members to engage with the library's online resources until it reopens.
Lawrence and Larimer Clothing + Supply
When Lawrence and Larimer opened in March 2015, it was a dream realized for owners John and Keyonna Chapman. As it approaches its eighth anniversary, Lawrence and Larimer continues to lean into its mission to "curate dope streetwear… while building a lifestyle that feels good, is full of love and can be enjoyed; all the while breaking generational curses and building empires." From impeccably curated candles and crafted streetwear to their unwavering community connection and soulful ambience, Lawrence & Larimer is sure to be a vibe for all. The custom design house is currently located 3225 E. Colfax Street in Denver.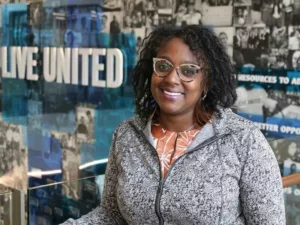 Pet Whisper owner Monique Esberry founded her company in 2016 with a goal to help animals suffering from skin issues, ranging from wounds and cuts to burns and rashes. Today, her company provides a variety of pet supplies, including grooming products and gourmet pet treats. Monique sees Pet Whisper as an opportunity to reach the community in a new way, and even help overcome racial barriers. "I hope to build a new world around me where people don't see race as a barrier, but as an opportunity to get to know people with difference backgrounds. I believe pets can help reduce racism by bringing people together in one accord and help build unity." Shoppers can visit the Pet Whisper at the Town Center of Aurora, or purchase products at Only Natural Pet locations in Cherry Hills or Boulder.
Urban League Young Professionals of Metro Denver

The Urban League of Young Professionals is a vibrant network of young leaders dedicated to political advocacy, community service, professional development and health and wellness. Membership is open to Metro Denver residents 40 years old and younger; anyone interested in learning more is encouraged to attend Join Week from Feb. 5-10. In recent years Urban League of Young Professionals members have received regional and national recognition, including being named the Western Regional Emerging Chapter of the Year by the National Urban League in 2019.
If you want to learn more about Denver's Five Points neighborhood, take this self-guided tour which includes 20 stops along and near Welton Street. Illustrated signs tell the stories of people, businesses and movements that helped shape Denver into the city it is today.
Attend Black History Month Events:
Metro Denver hosts many events, festivals and activities throughout February to celebrate Black history in the Mile High City.
The Jazz Roots Festival offers live music, dance, poetry and more on Feb. 18 and Feb. 25 at various locations in the Five Points Neighborhood.
Mile High United Way's own Brave Spaces virtual series explores topics around social justice and racial equity. Each session is led by prominent Diversity, Equity and Inclusion leaders, encouraging our collective understanding of how we can work toward a more equitable and just society. We invite you to join us for our upcoming sessions in March and April when we'll discuss racial justice in electoral politics, early childhood education barriers and solutions and more.
Learn how Mile High United Way champions diversity, equity and inclusion in our work, and how you can join us on the path toward racial equity.