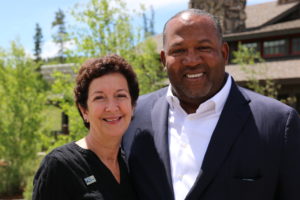 Mile High United Way is proud to announce Vernon Irvin, president of CenturyLink's government, education, medium and small business unit, as the 2018-2019 Chair of the Board of Trustees. Irvin will lead a Board of 40 community and business leaders who are committed to Mile High United Way's mission to fight for the education, health and financial stability of those in need in Metro Denver.
"Mile High United Way is extremely fortunate to have such dedicated Trustees who champion Mile High United Way's mission and are deeply invested in our work and in our community. We couldn't be more grateful for Vernon's continued leadership and willingness to serve as Board Chair," said Christine Benero, President and CEO of Mile High United Way, "Our community will benefit from his leadership and his commitment."
In his role at CenturyLink, Irvin is responsible for leading a $3.5 billion business operation with more than 2,000 employees in 50 markets in the U.S. In addition to Mile High United Way, Irvin serves on the Boards of Colorado Technology Association, Colorado Black Chamber and Denver Economic Development. He has more than 20 years of leadership experience in internet, telecommunications and media operations. He and his wife Erica and three children are residents of Denver.
"It is an honor to serve on the Mile High United Way Board of Trustees, and now to serve as the Chair. This organization aligns with my values and my personal philosophy that when we come together to share ideas, collaborate and combine resources we are often most successful in business, and in life. I look forward to continuing this important work, and elevating the work of Mile High United Way in the community," said Irvin.
Irvin succeeds Mary McBride, who served as Chair since 2016. McBride will continue to serve as a Trustee on the Mile High United Way Board. Additionally, Mile High United Way will welcome 11 new members including: Timi Aguilar (Aguilar Public Relations), Greg Bante (Savills Studley), Mark Belfance (Ernst & Young LLP), Matt Cornwell (FirstBank), Carrie Horton (Anadarko Petroleum Corp.), Michael Katz (U.S. Bank), Mashenka Lundberg (CoBank), Michelle Nettles (Molson Coors), Beth Opperman (Wells Fargo Wealth Management), Ethan Rojhani (Grant Thornton), and Steve Topalian (Enterprise Holdings).
The Mile High United Way Board of Trustees is a diverse and committed group of local business and community leaders who support and further Mile High United Way's mission. To view the full list of Mile High United Way Trustees, click here.
Mile High United Way is proud to work with our corporate, nonprofit and individual partners to change the lives of thousands of people in Metro Denver by ensuring children are entering school ready to succeed; children are reading at or above grade-level by the end of third grade; youth are graduating high school ready for post-secondary education or entry into the workforce; and individuals and families can meet their basic needs and are afforded every opportunity to move toward economic success. Together, we are investing in the future of our community.