We believe our communities are strongest when small, local businesses thrive. Through our Personal Investment Enterprise (PIE) program, we're investing in small business owners, like Shellby, to support their dreams of growth.
Shellby established Hiking ColoRadDogs in 2017, combining her love of man's best friend with her passion for exploring Colorado's trails.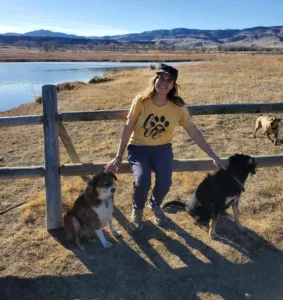 "I'd done dog walking and pet sitting here and there for years before starting my own business. When I moved to Longmont it was an opportunity to work for myself," Shellby said.
While searching for small business loans, Shellby came across Mile High United Way's PIE program, recognizing it as the perfect fit to help her meet her business goals.
"I wanted to grow and market my company more, but I needed someone who could help me with my website. [The staff] really helped me – they worked with me to set up a business plan and get things like my finances in order because that's really not my specialty," she said.
Participants in the PIE program save up to $167 monthly, working toward a $1,000 savings goal while also completing financial education courses. Once the savings goal and classes are complete, they receive a $4,000 grant match to put toward homeownership, small business development or post-secondary education. For small business owners like Shellby, PIE can help an established business grow and thrive.
"I used my grant to hire a contractor who helped me develop my website. She also helped me develop a Search Engine Optimization strategy, which helped me grow my business," Shellby said. "I also got a computer, which was really helpful because before I was just doing everything on my phone."
One of the PIE program's goals is to help families move toward economic self-sufficiency while pursuing their personal and professional dreams. Since the program began in 2001, more than 400 participants have successfully graduated. PIE currently operates in Boulder and Broomfield counties in partnership with Community Action Programs of Boulder County.
Weathering the Storm
The business consulting and financial courses helped ColoRadDogs stabilize during the COVID-19 pandemic when clients suddenly found themselves home with their pets and no longer relied on Shellby's services.
"March 2020 was supposed to be my busiest month up to that point, and instead everything was canceled," she said. "But I received unemployment support for small businesses, and now I'm growing again.
"I'm really grateful for the PIE program. Starting my own business and getting funds to help me was amazing. It's allowed me to have more free time in a sense, I can make my own hours and it allows me to volunteer and foster at the (animal) shelter."
Learn More
Mile High United Way's PIE program empowers low-income families to move toward long-term financial stability through first-time homeownership, post-secondary education and small business development. If you are a resident of Boulder or Broomfield counties and want to learn if the PIE program can help you reach your goals, email pieprogram@bouldercounty.org.
Interested in supporting PIE program participants and learning more about the program? Learn More