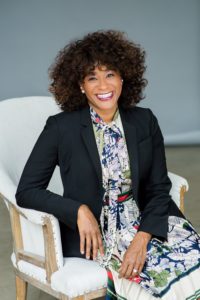 Denver, Colorado – Effective May 18, 2020, Tasha Jones will serve as Chief Marketing Officer for Mile High United Way to lead the organization's brand strategy initiatives.

Ms. Jones joins Mile High United Way from Brookfield Properties Development (formerly Forest City) where, as Senior Director of Marketing and Community Relations, she led the branding, community outreach and government relations efforts for the redevelopment of the former Stapleton International Airport for 15 years. Before joining Brookfield Properties Development, Ms. Jones worked in marketing and public relations for the University of Denver and in global marketing for the Vance Kirkland Museum and Prologis.

Ms. Jones is engaged in civic leadership through her involvement in a variety of community organizations and invests her time heavily in one-to-one youth mentorship with the Challenge Foundation Mentor Program. She also recently joined the Board of Directors for the Denver Metro Chamber of Commerce and Warren Village. A native of Fort Collins, Colorado, Ms. Jones received a degree in journalism and mass communications from Drake University.

"We are thrilled to welcome Tasha to the Mile High United Way team. A proven and passionate community leader, she will bring her expertise and vision to lead the way in telling our story and uniting the entire community," said Christine Benero, President and CEO of Mile High United Way.

In her role as Chief Marketing Officer, Ms. Jones will drive strategy for Mile High United Way's marketing efforts, alongside their existing marketing team, bringing greater awareness to the organization's programmatic work in strengthening under-resourced neighborhoods in the Denver metro area. "This is a tremendous opportunity to be of service to the residents, business leaders, and policy makers in making a meaningful contribution to the nearly 300,000 people living in poverty in our community," said Ms. Jones. "I'm excited to lead the planning, development and execution of Mile High United Way's integrated marketing initiatives – working in tandem with a remarkable team of vested leaders."

About Mile High United Way
Working side-by-side with the community, Mile High United Way takes on critical human services issues facing our seven-county footprint including the Metro Denver, Boulder and Broomfield communities. Our united approach changes the odds for all children, families, and individuals in our community, so that we all have the opportunity to succeed. Learn more at unitedwaydenver.org and follow us on social media @UnitedWayDenver.