The annual event hosted 35 projects with 250 volunteers across the Metro Denver area.

DENVER, CO– The second annual Denver Day of Service, hosted by Mile High United Way and the Denver Broncos, included 500 hours of service across 35 projects in our community. This annual, day-long event encourages our community to give back through volunteerism.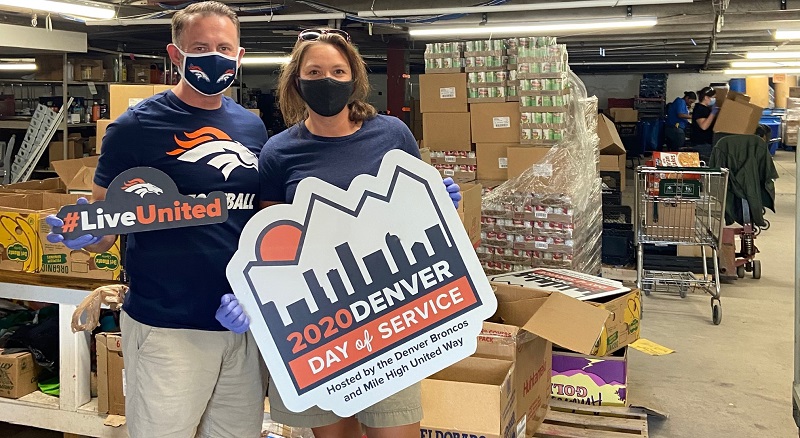 With a combination of socially distanced in-person and remote opportunities available, 250 volunteers participated to complete volunteer projects. The city-wide community service projects supported local nonprofit agencies and were captained by Broncos and Mile High United Way employees.

"Mile High United Way is proud to partner with the Denver Broncos for the second annual Denver Day of Service. Our community needs us now more than ever," said Christine Benero, President and CEO of Mile High United Way. "Since March, we have seen an increase in community needs. Through this year's Denver Day of Service, I am incredibly proud of our volunteers for raising their hand to meet the critical needs of our nonprofit community, so we can continue to meet the needs of our residents."

"We are inspired by the resiliency and dedication of our local nonprofit partners to serving our community," said Allie Engelken, Executive Director of Community Development for the Denver Broncos. "Today's second annual Denver Day of Service was a reminder that we can rebuild our community together – even from afar. Thank you to the volunteers who participated in dozens of remote, virtual and in-person volunteer opportunities and to Mile High United Way for their partnership and leadership in volunteerism."


###
Mile High United Way
Working side-by-side with the community, Mile High United Way takes on critical human services issues facing our seven-county footprint including the Metro Denver, Boulder and Broomfield communities. Our united approach changes the odds for all children, families, and individuals in our community, so that we all have the opportunity to succeed. Learn more at
unitedwaydenver.org
and follow us on social media @UnitedWayDenver.
Denver Broncos Community Development
The Denver Broncos are committed to improving lives in our community by focusing on Youth Development, Quality of Life, Health & Wellness, Youth Football and Civic Engagement. Alongside key community partners in each focus area, we are able to make a difference through strategic programming, unique events and dedicated advocacy. For more information on the Denver Broncos' community partnerships and programs, please visit
www.denverbroncos.com/community
or follow @BroncosOffField on Twitter and Instagram.