Understanding the impact of COVID-19 ON
FAMILY, FRIEND, AND NEIGHBOR CARE
SUPPORTING THE HEALTH AND DEVELOPMENT OF YOUNG CHILDREN TAKES AN ENTIRE COMMUNITY.
Though often unseen and overlooked, a vast network of family members, friends, and neighbors devote their time and passion to providing child care for millions of families. This form of care – commonly referred to as Family, Friend, and Neighbor (FFN) caregiving, also known as informal care, unlicensed/license-exempt care, and kith and kin care – is the most common form of nonparental child care in the United States and offers families a trusted, affordable, and flexible child care option. In Colorado, more than half of young children are cared for by FFN providers.

Despite the ubiquity and importance of FFN care, there is limited data on the characteristics of Colorado's FFN providers, their needs, and experiences, and most acutely, the impact of the COVID-19 pandemic on the provision of FFN care. Thus, Mile High United Way, in collaboration with the University of Denver's Butler Institute for Families at the Graduate School of Social Work and Early Milestones Colorado, conducted a research study to address these gaps.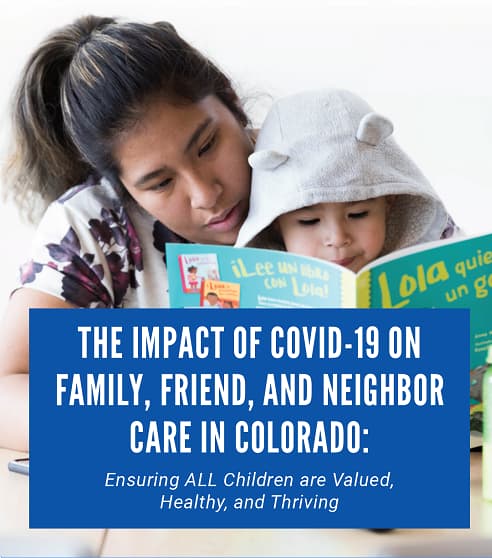 The Impact of COVID-19 on Family, Friend, and Neighbor Care in Colorado: Ensuring ALL Children are Valued, Healthy, and Thriving
By Mile High United Way, in partnership with University of Denver Graduate School of Social Work, Early Milestones Colorado, and Buell Foundation
HIGHLIGHTS FROM THE STUDY
COVID-19 HAD FAR REACHING IMPACTS ACROSS MULTIPLE DOMAINS OF FFN CAREGIVING:
of respondents received no money or less than $100/week for providing care
of respondents reported they are incurring additional costs due to COVID, e.g., cleaning supplies and PPE
of FFN providers surveyed report their household income has decreased since COVID
The Family, Friend, and Neighbor Care study is in partnership with: