Mile High United Way's physical office is currently closed, but all of our services including 2-1-1 will be running at full capacity. Please dial to reach our community resource center.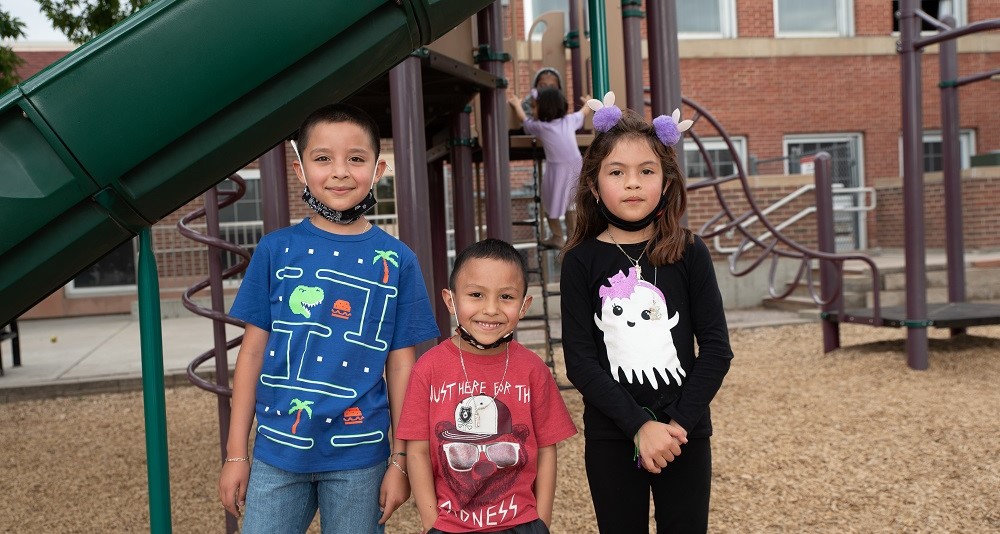 United for Schools
Strengthening the path to academic success for children by developing parent advocates, strengthening school-community partnerships, and linking essential resources to serve both parents and children.
We believe a quality education is critical to breaking generational cycles of poverty.
We know, however, that families must have stability and safety first before parents can prioritize their child's learning. As Mile High United Way remains on the frontlines of this pandemic, we have seen how families in under-resourced communities have been disproportionally impacted, and how many are struggling to meet their basic needs.

That is why our United for School program has pivoted to focus not only on improving student engagement, but on stabilizing families during this crisis. Through a wraparound approach, we're working with both parents and schools in Metro Denver to ensure kids are ready and able to learn, whether remotely or in the classroom. Learn more in our 2020-2021 United for Schools Impact Report.
Read Impact Report
Our United for Schools program is focused on strengthening the path to academic success for children.
In addition to basic needs assistance, we are strengthening school-community partnerships, developing parent advocates, and bridging the digital divide for low-income families. This comprehensive approach is keeping more students engaged in class, so they can build a foundation for learning and achievement.
When parents are engaged in their children's education children earn higher grades, attend school more regularly, and graduate from high school at higher rates. 3
3. Strong Families, Strong Schools: Building Community Partnerships for Learning. Washington, DC: U.S. Department of Education, 1994.
How the Program Works


The following program strategies are employed at 7 schools across Adams, Aurora, and Denver County school districts. Our Community Advocates have built relationships with over 200 families, helping parents stabilize so they can better support their child's learning.
Direct Family Assistance
Through our Community Advocates, we are supporting families' basic needs during this time. This includes direct assistance for rent, utilities, food, medical expenses, mental health services, and transportation.
Digital Literacy Training
Our training provides basic skills to parents, with little to no experience with computers and technology, to help them navigate the virtual world and support their child's remote learning. The training includes internet use, online teaching platforms, video conferencing, email use, and more.
Quality Out-of-School Time (OST) Programming
We are developing strong partnerships between OST providers and schools to create quality programming, which has been proven to strengthen literacy skills and bolster social/emotional resiliency for students.
Parent Teacher Leadership Teams
Through family engagement strategies that are both teacher and parent led, we are building the capacity of both educators and families to be strong academic partners.
Computer/Internet Access
We are providing laptop computers as well as online learning subscriptions and internet cost support to enhance remote learning for students and help parents keep their kids engaged in school.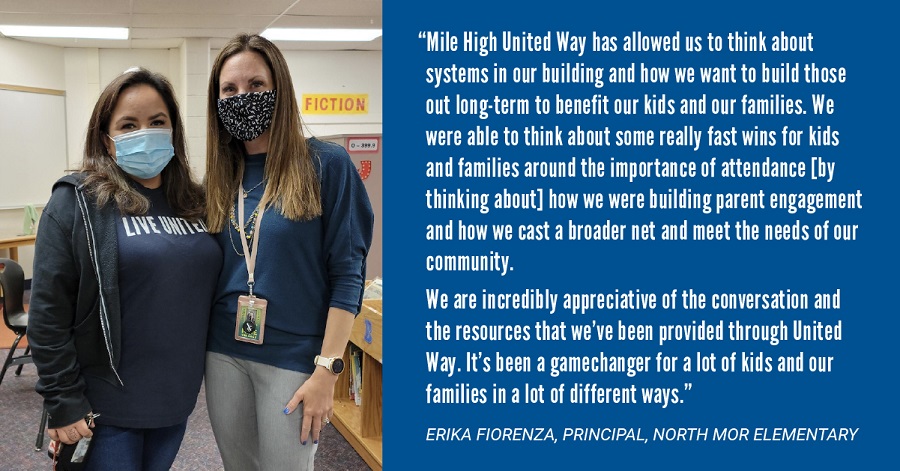 Promoting Digital Inclusion During the COVID-19 Pandemic
Reflections on the Parent Tech Training Program: In an effort to support the families of school aged children engaged in remote learning, Mile High United Way provided access to the internet, laptops, and a computer literacy program, the Parent Tech Training Program. This paper describes the program and key lessons learned about the digital divide in the context of a pandemic and through the lenses of culture and gender.
Read Paper
Digital Literacy Training for Parents
Many families are struggling to adapt during this time and lack sufficient technology and skills to support their child's remote learning. United for Schools is assisting 150 families in the Globeville, Elyria-Swansea, Thornton, and Aurora neighborhoods by providing laptops, internet connectivity, and digital literacy training for parents to help bridge the digital divide and keep students engaged.
View training videos
Why Equitable Access to Technology Now Means a Better Colorado Workforce Later
Mile High United Way's United for Schools program has been helping families and students overcome the digital divide since the onset of the pandemic and our work continues to be urgently needed in 2021.
Read More
Support academic success for students in our community
Give
When you give to Mile High United Way, your dollars do more. We surround Metro Denver with the programs and resources that address today's biggest issues and help prevent tomorrow's.
Volunteer
Join Mile High United Way's volunteer team! As a volunteer for our Read With Me program you can help students build confidence, increase literacy skills, and develop a love for reading.